Event Navigation
To have my 25th anniversary coincide with the 100 year celebration of Leonard Bernstein's birth is special for me personally, because of the unique opportunities I had to work with this great American musician. The first half of the concert celebrates Lenny the composer, culminating in the first performance by the MSO of his second symphony, Age of Anxiety, which has a dazzling and at times jazzy part for the piano, and carries with it still, a timely social statement. Christopher Taylor, a Madison favorite with whom I have often enjoyed collaborating, will perform the challenging and exciting piano part. The second half of the concert pays tribute to Lenny the conductor, and his life-long love of Beethoven. Symphony No. 7 was the last piece Lenny conducted. I thought it would be the perfect way to celebrate Lenny and his great contribution to American musical life.  – John DeMain
About Christopher Taylor
In recent seasons, Christopher Taylor has concertized around the globe, performing throughout Europe, Asia, and the Caribbean. At home in the USA, he has appeared with such orchestras as the New York Philharmonic Orchestra, Los Angeles Philharmonic Orchestra, Colorado Symphony, Detroit Symphony Orchestra, Saint Louis Symphony Orchestra, Atlanta Symphony Orchestra, Houston Symphony Orchestra, and Boston Pops Orchestra, and has toured with the Polish Chamber Philharmonic Orchestra. As a soloist he has performed in New York's Carnegie and Alice Tully Halls, Washington's Kennedy Center for the Performing Arts, the Ravinia and Aspen festivals, and dozens of other venues.
In 1990 Mr. Taylor took first prize in the William Kapell International Piano Competition, and also became one of the first recipients of the Irving Gilmore Young Artists' Award. He received an Avery Fisher Career Grant in 1996 and the Bronze Medal in the 1993 Van Cliburn International Piano Competition, where he was the first American to receive such high recognition in twelve years. He was named an American Pianists' Association Fellow for 2000.
In addition to his busy concert schedule, Taylor currently serves as Paul Collins Associate Professor of Piano Performance at the Mead Witter School of Music — University of Wisconsin–Madison.
"Leonard Bernstein [was] one of the most prodigally talented and successful musicians in American history."  – The New York Times
BUY SINGLE TICKETS
Online, or visit or call the Overture Center Box Office, 201 State St., (608) 258-4141
SUBSCRIBE ONLINE NOW
It's quick, easy and secure.
SUBSCRIBE BY PHONE
(608) 257-3734
Hours: Monday to Thursday, 9:00 a.m. to 5:00 p.m.
Hours: Friday (summer): 9:00 a.m to 12 noon
SUBSCRIBE BY MAIL OR IN-PERSON
Madison Symphony Orchestra
222 W. Washington Ave. Suite 460
Madison, WI 53703
THANK YOU TO OUR GENEROUS SPONSORS
Steinhauer Charitable Trust
Underwriting for Mr. Taylor provided by:
Sharon Stark,
to Peter Livingston with love
Major funding provided by: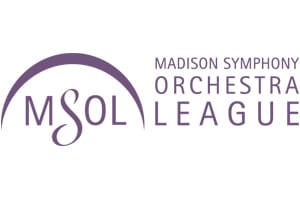 Additional funding provided by:
Robert Benjamin and John Fields
with funds from the State of Wisconsin and the National Endowment for the Arts
It is important for everyone in our community to be able to enjoy great musical performances like these. Because ticket prices only cover a portion of these wonderful concerts, I encourage everyone who is able to consider making a contribution to the MSO.
The Gialamas Company is proud to be a sponsor for the Madison Symphony Orchestra's 2018-2019 season. We greatly appreciate the MSO's continued role in Madison's vibrant performing arts community through magnificent performances and educational programs that inspire us all. We look forward to another fantastic season in Overture Hall!